The photos on this page are a trip Toby and I made recently, Saturday 27th September, little did I know the tragedy that was happening in the Philippines, and Vietnam this same weekend.
For me it was a regular day out experiencing the wonders of nature!
The photo below is on the way into town, thankfully someone had been through before us.

This photo is just as we near the larger of the towns near us. The police told us it was now only four wheel drive vehicle access. Our little car had to make a detour!

The river has never risen to cover the main road bridge

even though this shows the river at low tide.

It was quite amazing to see the blossoms still intact on this

tree in town, after all the wind and rain.

This is across the river heading to a friends place to check they were okay.
The rain continued for the next 24hours. We were lucky we only had a blackout for 14hours. Some areas of Tasmania were without power for 5days. The storm was across most of the state.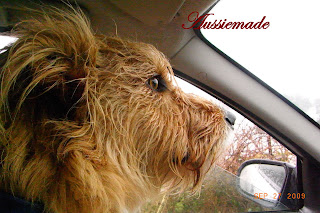 Toby is keeping his eyes on the road..

you can see why..

This was on the way home, I thought we might be able to go under the branches, but then I noticed that there were power lines tangled in the tree branches, (PHEW!) so we had to take a detour around the coast road and saw the beauty of gum trees (eucalyptus) growing on the foreshore, sea gulls on a flooded jetty, an amazing arbour of flowers and donkeys on a rescue farm looking pretty in pink!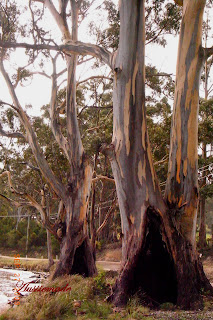 Our neighbours had a large branch down, but it missed their home we had many smaller branches about the place. Lots of kindling for next winter! :)

Fortunately no one was killed and we are all safe and dry. My heart goes out to those people and families in Indonesia, vietnam and the Island areas of Samoa and Tonga. Who were not so fortunate.