Please note Chook means Hen in Australian..lol
Four lovely Barnevelder chickens have made the Chooky Taj Mahal their home for two weeks now and how welcome they are.
They are 9-11 weeks old nowand are settling in well, I believe
It will be a few more months before we will get eggs. My idea is that they get used to being handled and Toby as he is a part of life at our place.
They are delightful and many hours have been lost by both Toby and I watching their antics.
They are a Dutch breed who are a quiet and delightful temperment. They are not mean to be as flighty as some breeds. I have been getting them used to Toby and attempting to get him used to them. He has helped us gather one escapee up, (the fencing was not quite finished) and this chook had jumped out of the Taj whilst I was sorting out water and food. Off chook and dog, me and DH went. Toby found her and indicated by standing at one side of a large tussock of grass on the dam wall where she was. She was well hidden..he remained on his side enabling me to get her and settle her. On return to the Taj and her sisters she ran to them clucking and sharing her great escape. (attempt anyway)LOL Fences are all up now thanks to my DH hard work. They are lovely girls, and I have built a small safe out door run for them and how they love to be out scratching and eating the grass.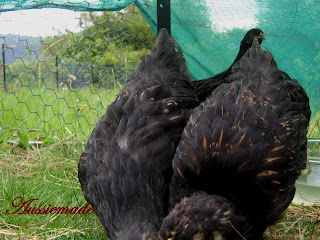 I have a worm farm so they have had a meal or two of worms and other insects I have gathered from the garden. I love it when one finds a worm and have a real chuckle as I watch their antics, as they chase and try to steal from the one with the worm. Little do they seem to realise that I have actually put quite a few worms in their. lol.
Those of you who have chooks I would love to know what you feed them if you do not use a store bought product.