We were sad to say goodbye to Cradle Mount
ain and begin our journey home. We had decided to take our time on the trip home, and as we had to be in Hobart for a family get together (grand daughters 7th birthday) we felt rather than get home from our holiday after a long drive and have to do another 200kms we would stay overnight in a lovely village called Oatlands. This little village has the most Georgian buildings in Australia, according to the tourist information. We came home through Mole Creek and went for a walk along this beautiful rural towns main long street. Chatting with some ladies in a community shop, we discovered that there is a beautiful creek
and gardens behind the Hotel and shop.
Not only that but it is home to platypus. Now we were lucky to see not one but two platypuses swimming and digging for bugs. Sadly I was to noisy trying to take a photo of one that was fully out of the water a
nd frightened it back in. However did get some okay shots.
I wanted to try their honey but they were closed. It was Sunday
Seems they are only open M-F. Oh well.
This is a photo of the amazing old farmers cottage we
stayed in about 5kms from Oatlands
These were the incredibly steep stairs from the top floor which fortunately we did not have to use, except to have a look at. I can not imagine how I would have managed if I had to go to the loo in the middle of the night.
The kitchen was bigger than ours at home, and how
I would have loved a brick oven like the one where the
light is shining. It was not being used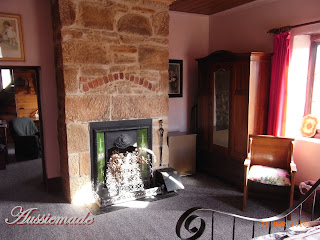 It is strange but both my DH and I said it was fine for one night but we did not feel that we would have enjoyed staying for two. Perhaps to many sad and hard times held in the walls. We had a similar experience when we stayed in an old church school that had been converted into a Self catered cottage. We both felt an overwhelming sense of relief when we left after two nights. Just wonder at what happened to the children. May have been a very harsh school.
It is always wonderful to have a few days away, but oh I love picking up the dog and cat, driving the last 20kms of our trip along the river and through the winding narrow road away from traffic, and turning into our drive way. At times I do wonder why we have a need to leave home and go anywhere else really.
.