Sounds normal for this time of year, but hey I live in the Southern Hemisphere! It is just the tip of one stem, but there were some blossoms on the branch.
I picked a lovely bunch of flowers today, wall flowers, wattle,
pineapple sage,
red saliva, purple
one and
lovely daisies,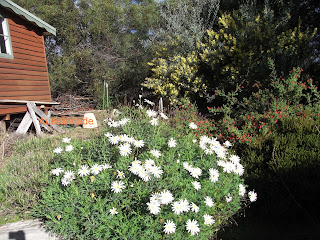 white and yellow centered one of my favourite flowers.
This does not look that much like a winter garden with wattles flowering.
It was the first day of WINTER down under and we are down under down under! I know it has been a mild Autumn, this proves it. Bulbs are already up and I even have some broad beans flowering. I am still getting tomatoes of a bush that is protected by a very large red flowering geranium,
which is again protected on two sides by the house.
What is going on? They are still hanging in there, and are slightly bigger now.
Perhaps my garden is picking up on my desire to be planting out and producing food, oh why does my body feel it is springtime here not winter..only 12 weeks till Spring (well another 4 or so for us to really be in spring).
Cabbage with borage flowers still flowering.
I still have peas to get into the garden. Sweet peas, I want to plant heaps of them this year, they are so pretty and scented. Lots of green peas, and snow peas, sugar snaps...yummo.
Okay it is official in the local newspaper today, a small article saying that the Royal Botanical Gardens of Hobart were also experiencing plants flowering and new growth throughout Autumn of plants that normally do not do this. Just glad to know it is not just my little patch that is out of whack.
Climate change is certainly present in my garden right now.